Differentiating between Nicsalts and freebase Nicotine Eliquids
January 05, 2023

Daljit Lamba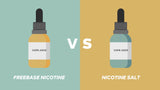 People who are new to vaping must have read terms like Nicsalts as well as free base nicotine liquids Nicsalts have lower PH they are new in vaping industry and nicotine is extracted from plants which are then blended with benzoic acid. Whereas freebase nicotine is used in pure form and most E-liquids marketed today include this form of Nicotine. Today free base nicotine is popularly used in cigarette replacement therapies and due to the alkaline solution it hits a strong throat. But people who want more vapors and less throat hit prefer Nicsalts so using any of both options is a personal choice.
Nicsalts contain Benzoic acid, stable at high doses, get absorbed faster in blood, do not produce large clouds, best for the lung to mouth vaping, suits new vapers, have a longer shelf life, best to be used in pod vapes, and devices with lower power  
One must choose a reliable online vape to buy Nicsalts to enjoy vaping as they offer good Nicsalts deals also a variety of Eliquid popular brands are available so one can choose as per one's taste preferences.
Freebase Nicotine E-liquids do not contain any type of additives as they are in pure form, the absorption rate is very slow, taken in high doses is harsh, and gives large clouds some vapers like it, suits low to medium nicotine strength, best for vapers who prefer low nicotine strength,  has short shelf-life.
A growing trend in vaping market is moving towards small-size e-cigs as well as pod devices that can be kept in a pocket or bag without compromising the vaping experience. Many vape shops are providing custom blended liquids that are delivered to the client's doorstep.
Nicsalts have grown in popularity and are absorbed into the body conveniently and vapers can vape higher levels of Nicotine along with a smoother throat hit. People who want to quit smoking are choosing Nicsalts and the best thing is that they are available in refillable pods.
The trend will move towards one time use of E-cig devices, purchasing E-liquids in bulk in large-sized bottles which can be disposed of safely and can be recycled. For the best deals in E-liquids, one can browse trustworthy vape shops that offer Nicsalts deals and E-liquids sales In UK so that one can save prices on vaping products for a wonderful vaping experience.
E-liquids use distilled forms of nicotine so they do not provide a good nicotine hit to get nicotine vapors solution has to be heated at a very high temperature and still it takes time to enter the bloodstream. People who want good nicotine hits and good vapors prefer nicotine salts for they vape easily at very low temperatures, and they get absorbed into the blood very easily providing satisfaction.
Nicsalts are perfect for people who want to quit smoking but have a craving and a need for nicotine and the best thing about Nicsalts is they are economical in the long run. Though per bottle they are more expensive but only less amount is used.